This one took much longer than it should have (our computer basically having a stroke a few weeks back didn't help) though was still mega amounts of fun to make. :)
Finally, here for your enjoyment a
The Avengers
Mood Theme.
Centered on Steed and Mrs Peel - the colour episodes only - it will work for all accounts.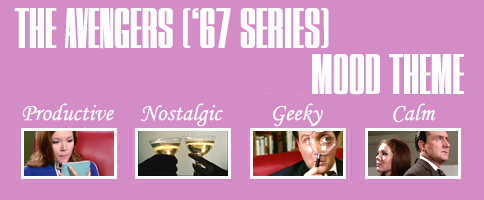 You can preview the whole theme
here
.
Download this
zipped file
if you'd like to use it. Credit on your userinfo page is a must - just because these things take a huge amount of time and effort to put together. Other than that, I hope you enjoy this one as much as I do. :)
Also

lidi
has posted a great walkthrough on how to set up a custom moodtheme
here
which I'm sure she wouldn't mind me linking to.
EDIT:
If you're having trouble getting this moodtheme to work it must be noted that all the picture files in that zip are
.png
and
not
.jpg
You will have to change that as well if you're using the moodtheme instructions linked above. Took me far too long to work out that was why my attempts weren't working. *headdesk*